NORTH 6 - mit Roger Schäli und Simon Gietl
Sie gelten als die sechs Großen der Alpen: die Nordwände von Großer Zinne, Piz Badile, Matterhorn, Eiger, Petit Dru und Grandes Jorasses. Bereits vor knapp 70 Jahren schrieb der französische Bergführer Gaston Rébuffat in seinem Klassiker "Sterne und Stürme" über die schattigen Fluchten: "Ein erfüllter Traum gebärt einen neuen Traum, und nun wollte ich alle großen Nordwände bezwingen." Sie allesamt zu meistern, ist für viele Bergsteiger ein Lebensziel, der Grand Slam des Alpinismus. Der Schweizer Roger Schäli und der Südtiroler Simon Gietl haben alle sechs Wände sogar mehrfach durchstiegen. Doch auch sie haben einen neuen Traum: Ihr Ziel ist, die ikonischen Wände nonstop zu begehen und die Distanzen zwischen den Gipfeln aus eigener Kraft zu bewältigen. Als sie an einem kühlen Herbstmorgen aufbrechen, liegt vor ihnen ein schier unmögliches Unterfangen: 1100 Kilometer Strecke, 30770 Höhenmeter Aufstieg und 29470 Höhenmeter Abstieg, die sie auf dem Rennrad, zu Fuß, am Seil und mit Gleitschirm bewältigen wollen. Auch für die erfahrenen Ausnahmekönner ist dies eine besondere Bergfahrt. Denn sie selbst wissen am allerbesten, dass man den Großen Nordwänden nur behutsam und demütig begegnen sollte.
ein Film von Frank Kretschmann und Tom Dauer
NORTH 6 - with Roger Schäli und Simon Gietl
They are considered as the six greatests of the Alps: the north faces of Grosser Zinne, Piz Badile, Matterhorn, Eiger, Petit Dru and Grandes Jorasses. Almost 70 years ago, the French mountain guide Gaston Rébuffat already wrote about the shady escapes in his classic "Stars and Storms": "A dream fulfilled gives birth to a new dream, and now I wanted to conquer all the great north faces." Mastering them all is a lifetime goal for many mountaineers, the Grand Slam of alpinism. The Swiss Roger Schäli and the South Tyrolean Simon Gietl have climbed all six walls several times. But they, too, have a new dream: their goal is to climb the iconic walls nonstop and to cover the distances between the summits under their own power. When they set out on a cool autumn morning, they have an almost impossible undertaking ahead of them: 1100 kilometers of distance, 30770 meters of ascent and 29470 meters of descent, which they plan to accomplish on road bikes, on foot, on ropes and by paraglider. This is also a special mountain trip for the experienced exceptionalists. Cause they know all that the Great North Walls should only be approached with caution and humility.
a film by Frank Kretschmann and Tom Dauer

Die sechs großen Nordwände :
Große Zinne
Höhe: 2999 m
Route: Comici-Führe (VII, 500 m)
Erstbegeher: Emilio Comici, Guiseppe und Angelo Dimai, 1933
Piz Badile
Höhe: 3308 m
Route: Cassin-Führe (VI, 900 m)
Erstbegeher: Riccardo Cassin, Vittorio Ratti, Gigi Esposito, Mario Molteni, Giuseppe Valsecchi, 1937
Eiger
Höhe: 3967 m
Route: Chant du Cygne (VIII, 900 m)
Erstbegeher: Daniel H. Anker, Michel Piola, 1992
Matterhorn
Höhe: 4478 m
Route: Schmid-Route (WI4+, M4, 1200 m)
Erstbegeher: Franz und Toni Schmid, 1931

Petit Dru
Höhe: 3733 m
Route: Nordcouloir (80 Grad, VI, M8+, A1, 900 m)
Erstbegeher: Walter Cecchinel, Claude Jäger, 1973
Grandes Jorasses
Höhe: 4208 m
Route: Leichentuch (70-90 Grad, WI6+, 1100 m)
Erstbegeher: René Desmaison, 1968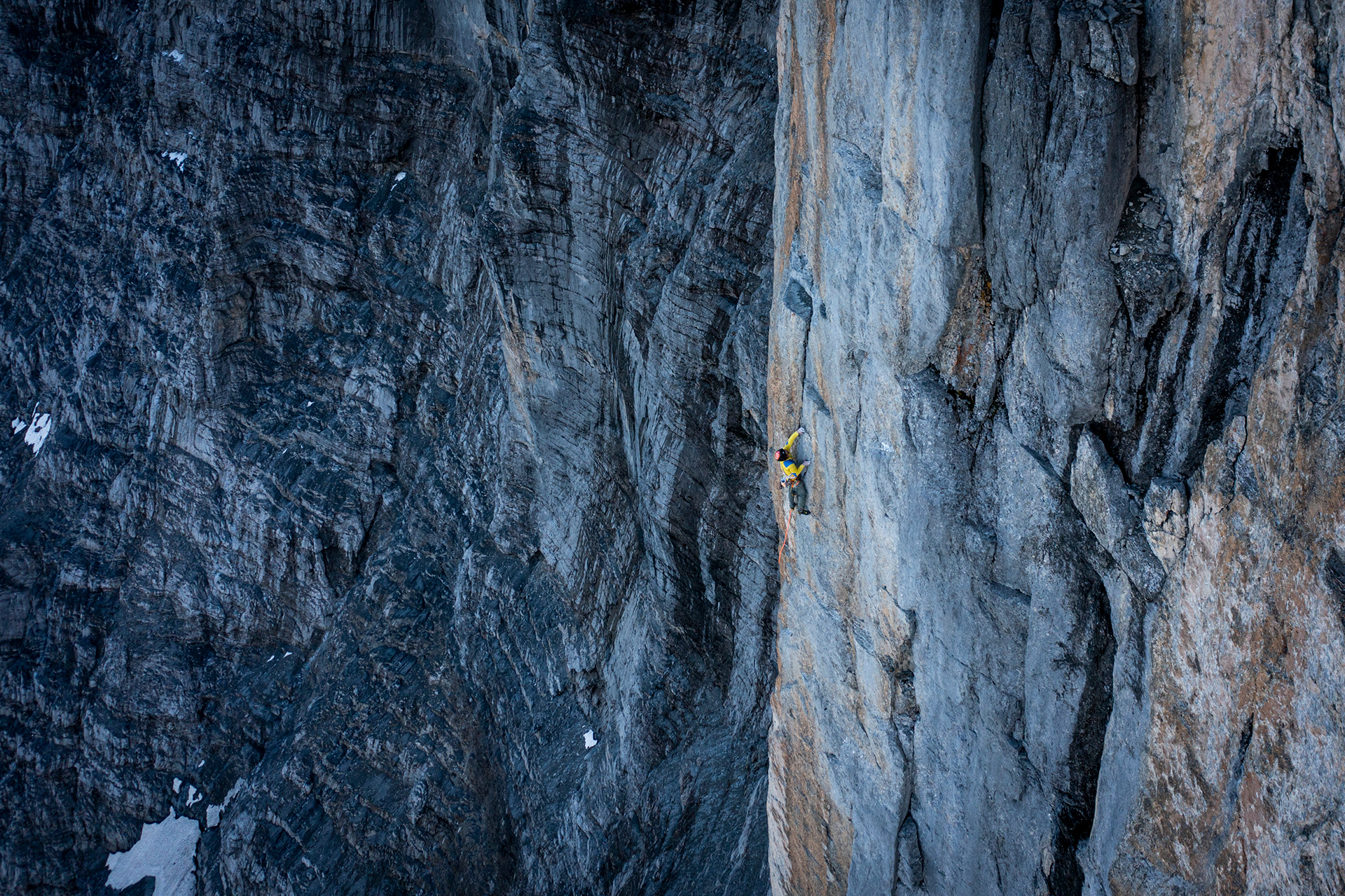 Produktion :
Frank Kretschmann, Kaletsch Medien
Directed by :
Frank Kretschmann, Tom Dauer
Edit :
Christoph Olschewski, Andreas Röder
Sound :
Christoph Olschewski 
Mastering :
Sebastian Preisendörfer
Animation :
Jojacoma.com
Quotes :
Gaston Rébuffat "Sterne und Stürme"

Photo - Film Crew:
Frank Kretschmann
Christoph Muster
Nicolas Altmaier
John Thornton
Severin Karrer    
Romano Salis

Support Crew:
Lucien Caviezel - Paragliding Expert
Sigi Pircher - Support, Logistik
René Maurer - Massage, Cooking, Support 
Adrian Büttner - Support Car, Cooking
Hartmann Gietl - Support, Cooking
Yannick Glatthard - Mountainguide
Karl Gabl - Meteorologe
Bike Team:
Alexander Pircher
Martina Kirchler
Kari Landoldt
Alex Gröhl
Reinhold Maurer
Sponsoren :
La Sportiva
Salewa
Zanetti Grana Padano
Bergpunkt
Lowa
Südtirol
Bächli
PETZL
Evil Eye
Grivel
Ogso
Migros
SCREENINGS 2022

11.Mai
Alpenfilmfestival
MURNAU – Kino im Griesbräu
Germany

12.Mai
Alpenfilmfestival
MÜNCHEN – Filmtheater Sendlinger Tor
Germany

13.Mai
London Mountain Film Festival
London
UK England

15.Mai
Alpenfilmfestival
ABENSBERG – Roxy Kino
Germany
18.Mai
Alpenfilmfestival
MÜNCHEN – Filmtheater Sendlinger Tor
Germany

18.Mai
Alpenfilmfestival
BERCHTESGADEN – Kulturhof Stanggass
Germany

19.Mai
Alpenfilmfestival
BOZEN – Filmclub
Germany

19.Mai
Alpenfilmfestival
BAD ENDORF – Marias Kino
Germany

20.Mai
Alpenfilmfestival
AUGSBURG – Thalia Kino
Germany

24.Mai
Alpenfilmfestival
TÜBINGEN – Arsenal Kino
Germany

25.Mai
Alpenfilmfestival
BAD REICHENHALL – Park Kino
Germany

26.Mai
Alpenfilmfestival
MÜNCHEN – Kino am Olympiasee
Germany

29.Mai
Alpenfilmfestival
IRSCHENBERG – Dinzler Kaffeerösterei
Germany

2.Juni
Alpenfilmfestival
IMMENSTADT – Union Filmtheater
Germany

2.Juni
Alpenfilmfestival
HEIDELBERG – Gloria Kino
Germany

8.Juni
Alpenfilmfestival
NEITERSEN – Wied-Scala
Germany

9.Juni
Alpenfilmfestival
HACHENBURG – Cinexx
Germany

12.Juni
Alpenfilmfestival
HACHENBURG – Cinexx
Germany

14.Juni
Alpenfilmfestival
FÜSSEN – Alpenfilmtheater
Germany

15.Juni
Alpenfilmfestival
FÜSSEN – Alpenfilmtheater
Germany

16.Juni
Alpenfilmfestival
HOCHFELLN – MITTELSTATION
Germany

19.Juni
Alpenfilmfestival
HEIDELBERG – Gloria Kino
Germany

22.Juni
Alpenfilmfestival
MÜNCHEN – Kino am Olympiasee
Germany

23.Juni
Spotkania z Filmem Górskim, Zakopane
Zakopane
Poland

26.Juni
Alpenfilmfestival
PENZBERG – KinoP
Germany

28.Juni
New Zealand Mountain Film Festival
Wanka
New Zealand

8.Juli
Alpenfilmfestival
POTTENSTEIN – Bergwacht
Germany

13.Juli
Alpenfilmfestival
MÜNCHEN – Kino am Olympiasee
Germany

14.Juli
Alpenfilmfestival
TÖGING – Naturfreunde
Germany

22.Juli
Alpenfilmfestival
GAP – Altes Loisachbad
Germany

16.August
Alpenfilmfestival
Wallersee – Strandbad Seekirchen
Germany

25.August
Internationale Berg FILM FESTIVAL
Teplice nad Metují
Czech

05.September
EHO Mountain Film Festival
Skopje
Mazedonien

20.September
Alpenfilmfestival
TÜRKHEIM – Filmhaus Huber
Germany

23.September
International Film Festival for Mountains
Bansko
Bulgaria

25.September
Alpenfilmfestival
TÜRKHEIM – Filmhaus Huber
Germany

28.September
Alpenfilmfestival
REGENSBURG – Lichtspielhaus Ostentor
Germany

29.September
Alpenfilmfestival
HAMBURG – Schanzenkino 73
Germany

1.Oktober
OUTDOOR FILMS s.r.o.
Ostrava
Czech

8.Oktober
Torello Mountain Film Festival
Torello
Spain

17.Oktober
Inkafest Mountain Film Festival
Lima
Peru

19.Oktober
Alpenfilmfestival
GAP – Hochland Kino
Germany

19.Oktober
Alpenfilmfestival
MÜNCHEN – Filmtheater Sendlinger Tor
Germany

19.Oktober
Bergfilm Festival Tegernsee
Tegernsee
Germany

27.Oktober
Alpenfilmfestival
MÜNCHEN – Filmtheater Sendlinger Tor
Germany

29.Oktober
Banff Mountain Film Festiva World Tour
Banff
Canada

9.November
Alpenfilmfestival
IRSCHENBERG – Dinzler
Germany

11.November
Bergfilmfestival Salzburg
Salzburg
Austria

11.November
Festival Internacional de Cinema de Muntanya
Torelló
Spain

13.November
Alpenfilmfestival
ETTLINGEN – Kulisse Kino
Germany

13.November
Bergsichten Dresden
Dresden
Germany

15.November
Mountainfilm Graz
Graz
Austria

17.November
Kendal Mountain Festival
Kendal
United Kingdom

24.November
Alpenfilmfestival
WASSERBURG – Kino Utopia
Germany

2.Dezember
Alpenfilmfestival
BAD TÖLZ – Capitol Filmtheater
Germany

4.Dezember
Alpenfilmfestival
BAD TÖLZ – Capitol Filmtheater
Germany

4.Dezember
Krakow Mountain Festival
Krakow
Poland

8.Dezember
Alpenfilmfestival
WEYARN – KletterZ
Germany

9.Dezember
Mendi Film Festival
Bilbao
Spain

11.Dezember
Alpenfilmfestival
KIEL – Studio Filmtheater am Dreiecksplatz
Germany

4.Januar
Alpenfilmfestival
DIESSEN – Kinowelt am Ammersee
Germany

25.Januar
Alpenfilmfestival
GAP – Hochland Kino
Germany